In my childhood, I spent many summers at Oma's house in Germany. To my brother and I, this meant a month of no television, visiting relatives that we couldn't converse with, and finding things to do instead of fighting. One summer after reading all the books we packed, I wandered into my uncle's office and looked through his library. I grabbed the ONLY book in English on the shelf and sat down to read. The book was

The Agony and the Ecstasy

by Irving Stone. Instantly, I was mesmerized by the story and passion of the life of Michelangelo. On our next trip to town, I made my mother stop by an art store and, when we got back, I set to work with sketchbook and pencils. My brother and I walked the winding path to the castle and I sketched the church towers. I sketched the vineyards gracing the hillsides. My sketchbook went everywhere with me. I sat in the kitchen table with Oma and sketched the castle view. Oma asked if I she could have the castle view drawing. She had it framed and the drawing hung on the entryway wall until the day she passed away.

In Irving Stone's telling of Michelangelo's life in

The Agony and the Ecstasy

, I found a passion that lead me to a career in art and design. With the lifestyles of
today, so many children are missing the opportunity to find their artistic passion. How many Monets, Picassos, and Cassats are, at this moment, playing a video game, watching TV, or texting their friends? My biggest wish is that someday my writing will inspire one child to grab a piece of paper and pencil and draw... an
d find his of her artistic passion. The following are just a few of the wonderful nonfiction books I love, that hopefully will inspire children to paint, draw, sculpt, build, and create!

Inspiring Art Nonfiction, Picture Books:



Frida

by Jonah Winter (author) and Ana Juan (illustrator)
Arthur A. Levine Books 2002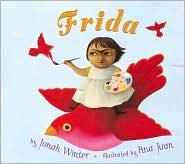 This book is my very favorite book on art. I have taught Art Appreciation classes in the elementary schools for 9 years and I am always finding that the book holds a captive audience for all children from Kindergarten to 5th grade. In Winter's telling of Frida Kahlo's life, her passion, creativity, and persistence shine through in a poetic narrative. The Mexican folk art of monkeys, devils, skeletons and jaguars, which represent the demons that Kahlo faced and incorporated into her paintings, add another interesting dimension to the art lesson.
Action Jackson
by Jan Greenberg & Sandra Jordan (authors) & Robert Andrew Parker (illustrator)
Square Fish 2007
In this beautiful picture book, the reader follows Jackson Pollock's passion for painting, stroke by stroke.
"An athlete with a paintbrush, he uses his whole body to make the painting. Layers build with each gesture, new colors emerging, blending, and disappearing into the wet surface. He swoops and leaps like a dancer, paint trailing from a brush that doesn't touch the canvas..."
Wonderful telling of this artist's story.
Inspiring Art Nonfiction, Middle Grade:
The Spirit Catcher: An Encounter with
Georgia O'Keeffe
by Kathleen Kudlinski
Watson-Guptill 2004
Okay, I know this is not officially nonfiction but I love this book and all the books in the Art Encounters series. In Kudlinski's telling of O'Keeffe's life, through the eyes of a fifteen-year-old boy, the reader experiences all the riches of the passion and inspiration through the beauty and mystery of the desert.
Inspiring Art Nonfiction, Young Adult:
Andy Warhol, Prince of Pop
by Jan Greenberg & Sandra Jordan
Delacorte Press 2004
I wish that I could have read this book in high school. Greenberg and Jordan paint a perfect picture of this unique artist... whose passion and popularity I did not understand until way past high school. This biography mixes just the right elements of passion, angst, and artistic lifestyle to interest teens.
The Vanishing Point
by Louise Hawes
Houghton Mifflin 2004
Well, once again, this book is more historical fiction than nonfiction but this true story of the real 16th century painter, Lavinia Fontana, will absolutely inspire, educate, and empower teens through the eyes of the young artist.
And isn't that a great cover?