One of the things I've noticed during school visits at both the elementary and middle school level is that kids really respond to poetry. The most interesting thing about that? The kids who are the school's "problem" kids often pay the closest attention. They are able to follow long poems such as "Casey at the Bat" by Ernest Lawrence Thayer, and can sort out what's going on in poems with obscure (or nonsense) words in them, such as "Jabberwocky" by Lewis Carroll.
There's no reason that poetry has to be relegated to a one-week unit, assuming that the teacher has time to get to it. And this is because there are poems and poetry collections that fit extremely well into existing school curricula.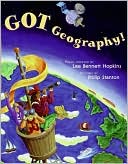 Studying geography? Try
Got Geography!
, edited by Lee Bennett Hopkins. Studying the planets? Don't miss Douglas Florians
Comets, Stars, the Moon, and Mars
. Studying explorers or pioneers? Try
Trailblazers: Poems of Discovery
by Bobbi Katz.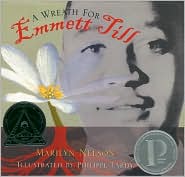 Studying Civil Rights? Try
A Wreath for Emmett Till
by Marilyn Nelson,
Miss Crandall's School for Young Ladies and Little Misses of Color
by Elizabeth Alexander and Marilyn Nelson,
Birmingham 1963
by Carole Boston Weatherford.
Studying animals and/or habitat? Try Valerie Worth's
Animal Poems
, illustrated by I.N.K. blogger Steve Jenkins,
The Seldom Ever Shady Glades
by Sue Van Wassenhove,
If Not for the Cat
by Jack Prelutsky,
Vulture View
by April Pulley Sayre (again illustrated by Steve Jenkins),
Feathers
by Eileen Spinelli or
Mites to Mastodons
by Maxine Kumin (or one of many more books on the topic).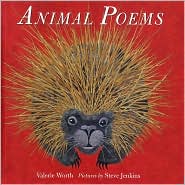 Interested in studying biographies? There's
Twelve Rounds to Glory: The Story of Muhammad Ali
by Charles R. Smith, Jr.,
Your Own, Sylvia: a verse portrait of Sylvia Plath
by Stephanie Hemphill,
The Poet Slave of Cuba: A Biography in Poems of Juan Francisco Manzano
by Margarite Engle, or
Jazz ABZ
by Wynton Marsalis (biographies of jazz greats).
The point is that for nearly any area of study, a poetry collection can be found that relates to it. And it should be found, because kids who have a hard time sitting still for prose lectures pay attention really well to poems. I suspect it's because of the use of lots of imagery and active verbs, the rhythm and, when used, rhyme, that grabs and holds the attention of kids who don't or can't always listen to prose.